Stream Pre-Recorded Data
Follow these steps to playback recorded data through the MNE Rt Server to MNE Scan.
Navigate to the FiffSimulation.cfg file in your MNE-CPP install directory, e.g., mne-cpp\bin\resources\mne_rt_server_plugins\FiffSimulation.cfg.
Open the FiffSimulation.cfg with a text editor and insert the path and file name of the fif file which you want to stream. For example: simFile = ./MNE-sample-data/MEG/sample/ernoise_raw.fif
Save and close the FiffSimulation.cfg file
Start the mne_rt_server mne-cpp\bin\mne_rt_server
Start MNE Scan mne-cpp\bin\mne_scan
Select the FiffSimulator plug-in and place it on the plug-in scene. Make sure to delete all other plug-ins on the stage.
Click on the FiffSimulator plug-in and select the Connection tab. If you have started the mne_rt_server on your local machine, use IP 127.0.0.1 and press Connect. The status should change to Connected.
Click on the FiffSimulator plug-in and select the Preferences tab. We recommend to use the same block size as the sampling frequency. This way the data will be refreshed every second. 
Press the green play button in the left upper corner.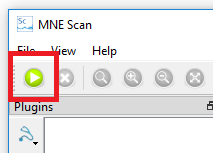 If you click on the FiffSimulator plug-in you should now see the real-time data display.